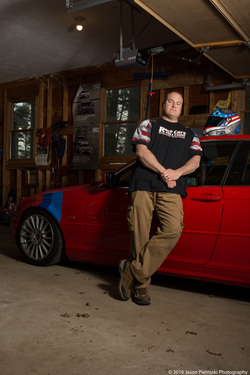 A statement from our Founder:
"Why race cars? There are plenty of excellent organizations that help Veterans with various sports and activities, but very few that give them the chance to learn the art of racing, and bring them a track experience. I wanted to pass on my passion and excitement for racing to those who may not, for whatever reason, ever be able to feel the thrill of being in a race car. My credentials include current membership in the
SCCA
, a graduate of the
Skip Barber Racing School
at
Lime Rock Park in CT
, a volunteer/driver at the
SCCA's Track Nights in America
program, a state certified driving instructor for commercial and performance driving, a member of the
BMW Car Club of America
, and a member of the
Porsche Club of America
.
Since our inception in 2015, we have successfully brought dozens of Veterans to race tracks all over New England. Lime Rock Park, Thompson Speedway, Palmer Motorsports, and the Waterford Speedbowl are just a few that we have visited over the past few seasons. Veterans get the chance to sit in a high performance car, or race car, with professional drivers and feel the thrill of adrenaline packed fast laps. In the future, we will introduce our "Vets on Track" program. This mission will include free training for Veterans in the area of commercial truck driving to aid in the transition to civilian life, and provide a path to successful employment in a high demand field. Commercial trucking and racing go hand-in-hand, and by combining the two, we will give Veterans the opportunity to experience the logistics of loading, hauling, and route planning. This gives them valuable job skills training that can be utilized once they move into the field of commercial trucking. Our ultimate goal is to reduce Veteran unemployment rates in the New England area.
I am proud to say that no one in our organization receives any monetary compensation. 100% of all donations go directly to supporting our programs for veterans. Motorsports can be very costly and time consuming, but everyone from the Board of
Directors, to the event volunteer staff, donate all of their time and effort to keep our events running smooth and efficient.
More than just a chance to experience racing, I want to give our Veterans an opportunity to meet with other Veterans, enjoy a day at the track, share some laughs, and again feel the comradery
established in military service. Please join me in an effort to reach out to our Veterans and extend a helping hand."
Thank you,
Jeffrey Archambeault/Founder & President, Race Cars for a Cause
---