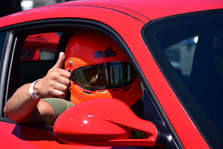 7/30/17 - What an amazing day we had at Thompson Speedway in CT! Thirty veterans, active military, and their loved ones signed in to join us for some fast laps at this great circuit. During the event, a veteran presented a folded American flag that flew over his unit during overseas deployment. It was an incredible gesture, and one that means the world to us. " I am truly honored to have this flag presented to me on behalf of the charity. It will be permanently mounted in our track car as a symbol of freedom, respect, honor, sacrifice, and for good luck". - Jeff Archambeault, Founder & President.
Thank you to everyone that came out and helped make this a very special event for us, and for our honored guests. Enjoy the gallery below by staff volunteers Sean Ryll, John Ryll, and track photographer John Reed.

---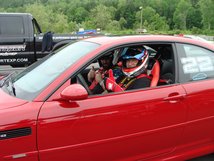 6/9/17 - We were at Lime Rock Park this past Friday with
Hooked On Driving
, and had such a great day! We were able to get a full day of testing for our BMW M3 track car, and provide some fast laps for participants. Special thanks to Christopher Liou of Hooked on Driving for inviting us to their awesome track day, we'll be back for more! View the gallery below.
---

5/27/17 - We had a tremendous turnout for our season opener at Palmer Motorsports Park! 81 people signed in to get ride along fast laps at this incredible facility, and we couldn't be happier to share the day with all of them. Special thanks to Al Sandy of Palmer Motorsports Park for coordinating the effort to reach out to as many as we could and bring them a day of motorsports fun. A very big thank you to all of the drivers that volunteered their time to take veterans out for some FAST laps on this twisty road course. View the gallery below.

---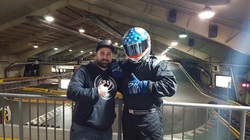 President/Founder Jeff Archambeault and staff volunteer Sean Ryll were invited to attend a charity fundraiser at the F1 Boston karting track last week. The event was a 90 minute endurance race consisting of 12 teams that helped to raise money for
Veteran Homestead
.
Created by Vietnam veteran Leslie Lightfoot, Veteran Homestead Inc., is an independent, non-profit organization that provides housing, rehabilitation and care to U.S. Armed Services Veterans from across the nation who are elderly, disabled or diagnosed with a terminal illness. "It was an honor to be invited to such a great event. It shows how we can integrate motorsports and veterans service organizations together to create a fun and exciting atmosphere, and help raise crucial funding for groups like Veteran Homestead." - Jeff Archambeault, President, Race Cars for a Cause.
---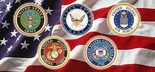 We have officially launched our
GoFundMe
campaign. The racing season is just a few months away, but more importantly, we want to get our "Vets on Track" CDL training program running by late spring. This free training program will provide Veterans with hands-on training in commercial truck driving, creating new career opportunities and assist with unemployment. Please click on the
link
and show your support for our mission. We cannot provide this training without your help, so help us spread the word and let's give back to our Veterans!
---
Haven't been to our
YouTube
page yet? Well, click below and watch our latest video! Get a look inside our mission, and our future. Check out our other videos too, we have some great footage from our track events.